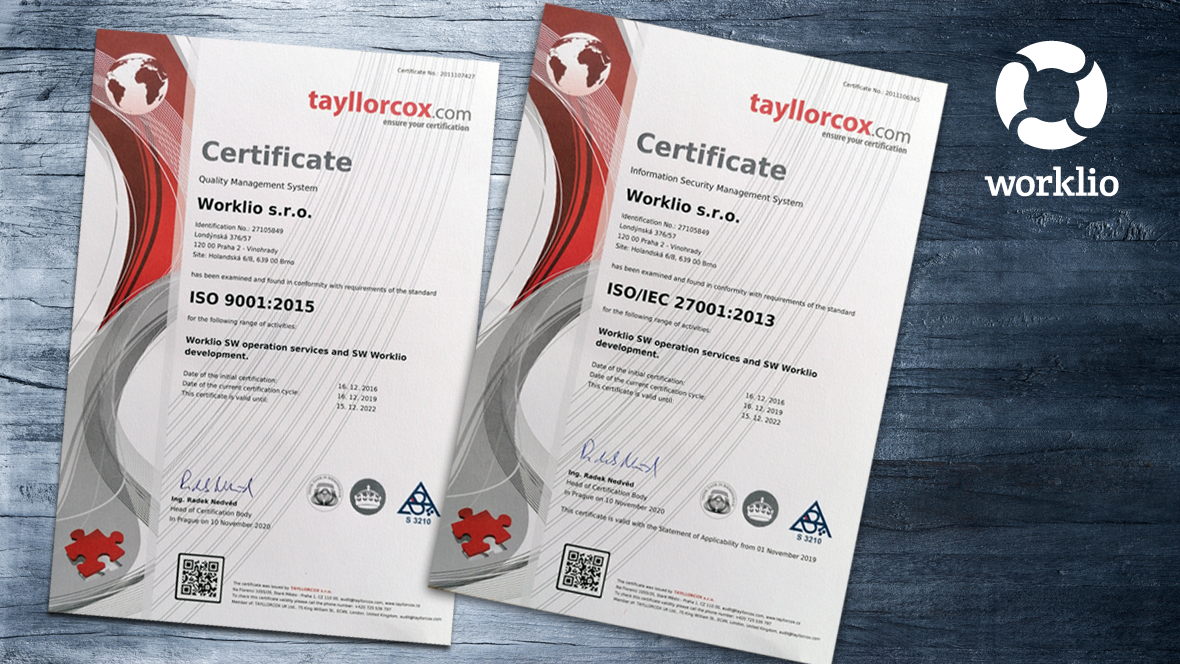 BRNO, Czech Republic — Worklio™ has re-verified compliance with its ISO 27001 certification for information security management and its ISO 9001 certification for quality management, with specific emphasis on the powerful PEO Payroll Software and HRMS that is bringing a new level of technology to PEOs, ASOs and Staffing Firms.
TayllorCox, an international certification company, verified compliance with the ISO standards with a comprehensive supervisory audit.
"It is imperative that we prove our security for both our product and our customer's data," said Zdenek Valach, the CIO of Worklio. "The fact that we maintain the high standards imposed by the ISO 27001 and ISO 9001 certification process is one important way for us to be able to show our customers — and future customers — that we are up to the international standards."
Worklio automates the time-consuming and burdensome administrative tasks of running a company so that people can focus on their mission and vision. The Software-as-a-Service platform is built on the latest Microsoft® .Net and Microsoft® Azure SQL Server technology platform, designed and optimized for the Microsoft® Cloud, and available 24 x 7 across all devices.
The International Organization for Standardization maintains internationally respected standards for business. ISO/IEC 27001:2013 provides requirements for an information security management system in order to enable organizations to manage the security of assets, such as financial information and intellectual property. ISO 9001:2015 sets out the requirements for a quality management system to provide guidance for companies that want to ensure that they consistently meet customer requirements.
To see the Worklio software in action and learn how it can help streamline your business, send an email to demo@worklio.com.