Worklio's mission is to help people work more efficiently while helping our partners unlock new revenue. One of the ways we're living up to that promise is seen through the launch of our new API-embedded payroll product.
We know that payroll products are a sticky source of predictable revenue; with embedded payroll, Worklio is empowering our partners to offer their customers a world-class solution that both saves time and reduces expensive errors, among other numerous benefits.
In this article, we'll outline what exactly is embedded payroll, how to deploy this product, and whom embedded payroll is a good fit for.
What is Worklio's embedded payroll?
Our embedded payroll solution enables partners to quickly build a payroll product for their customers via a robust payroll API platform. The proven technology scales to run payroll for 1 to 5,000+ workers without downtime or disruption on payday. It also powers unlimited payroll runs with either same-day or next-day direct deposit for employees.
Our payroll integration can handle complex tax calculations for federal, state, and local authorities in all 50 U.S. states and Puerto Rico. It also includes comprehensive job costing to get a better understanding of where employees' time goes and what that time costs. Our optional HRMS enables partners to manage employees compliantly with online onboarding, document management with electronic signature, and flexible rules for time off tracking.
We also provide flexible reporting that allows partners to generate custom reports spanning multiple entities over multiple years. Additionally, customers can have multiple financial reporting units with multiple FEINs under each financial reporting unit, such as franchise and property management payrolls. Thus, the payrolls can be processed together with multiple FEINs and then reported separately.
With our embedded payroll product, we take care of customers' end-to-end payroll needs, including:
Payment transmittance between employers, employees, and taxing authorities, plus garnishments and payment to vendors such as insurance carriers.
Automatic tax management for federal, state, and local government tax payments.
Updating federal, state, and local tax forms, and filing the reports on time with the agencies.
Filing the W-3, 940, 941 and 944 forms and supplying employees with their W-2 forms and contractors with their 1099-forms for end-of-year protocols.
What's more, our payroll integration was built with security in mind. There is no sharing of data servers to ensure the lowest risk of a ransomware attack and outage. Each of our individual partners is set up to run on its own instance, which is powered and secured by the Microsoft Azure® Cloud. We also offer a seamless single sign-on back-office experience so that partners can access all their customers' data with just one set of login credentials to see what they see.
A more complete list of Worklio's embedded payroll product features can be seen in the table below: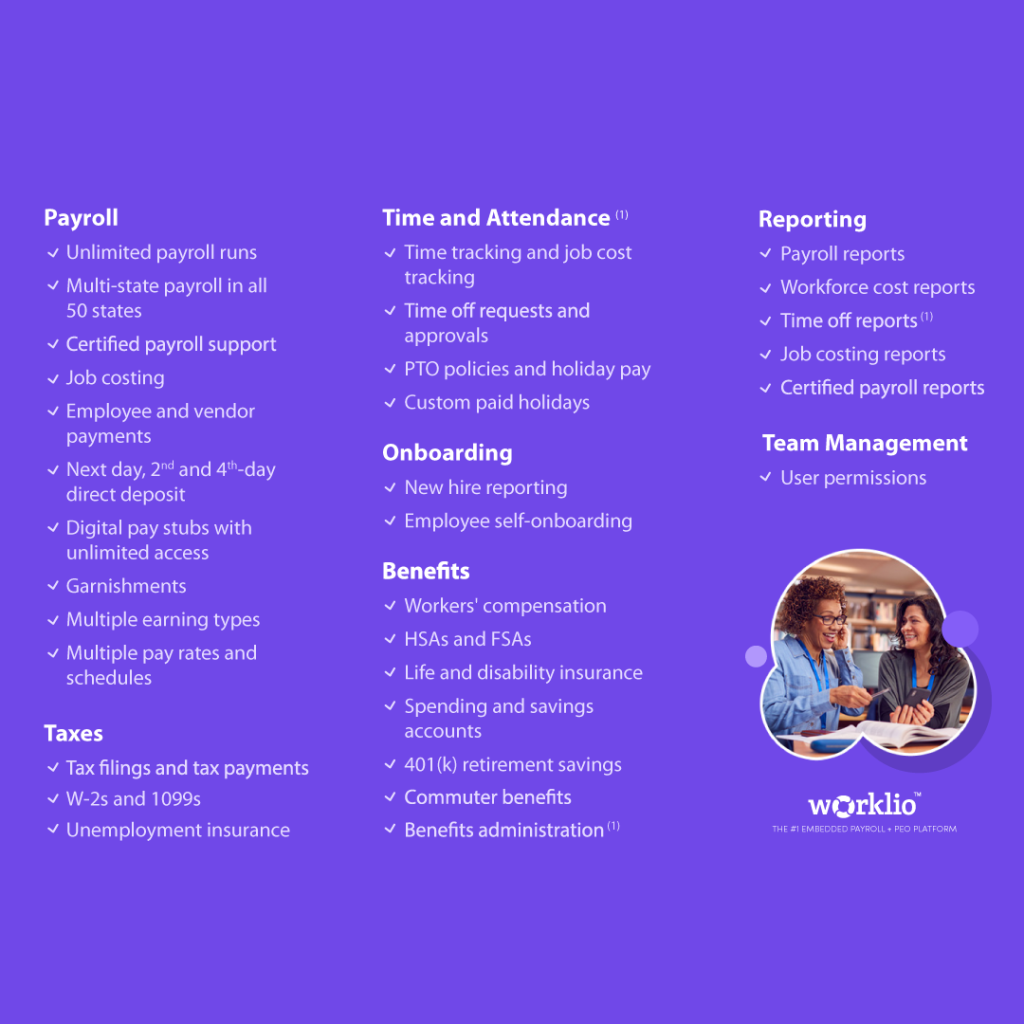 For those interested in discussing this further, our embedded payroll experts can be reached at demo@worklio.com.
Use Our Payroll API to Build Your Own Payroll Product
It's one thing to offer an extensive set of product functionality, but it's another thing entirely to make that functionality easy to build, deploy, and scale. Worklio's embedded payroll platform can be built and launched in as little as four weeks, meaning that partners can extend their product suite with a payroll solution much more quickly and at a significantly lower cost.
Our Payroll API has over 1,300 endpoints and is designed to handle real-world payroll complexity for large enterprises.
The platform also satisfies unique customer needs, such as certified payroll for special weekly payroll reports using Form WH-347 that government contractors who are working on federally funded projects need to complete and submit to prove they are paying workers the prevailing wage.
Taking it a step further, our embedded payroll can also support time and attendance that is compliant with FLSA and state laws, plus benefits administration with a customizable plan setup, flexible eligibility rules, and benefits enrollment. The platform utilizes a PEO feature that allows customers to switch on and off as they grow their internal workforce while remaining on the same payroll platform.
Beyond the core features, Worklio's embedded payroll platform allows partners to build a custom payroll user interface that best suits their customers, all while staying compliant with local laws, reducing their time investment, and saving money on expensive errors. The platform is outfitted with a timesheet API to solve the problem of manually transferring data between business management tools and existing payroll solutions. The platform also provides hundreds of reports to satisfy customers' accounting and business intelligence requirements.
Below we illustrate how Worklio's embedded payroll solution augments partners' current payroll experience: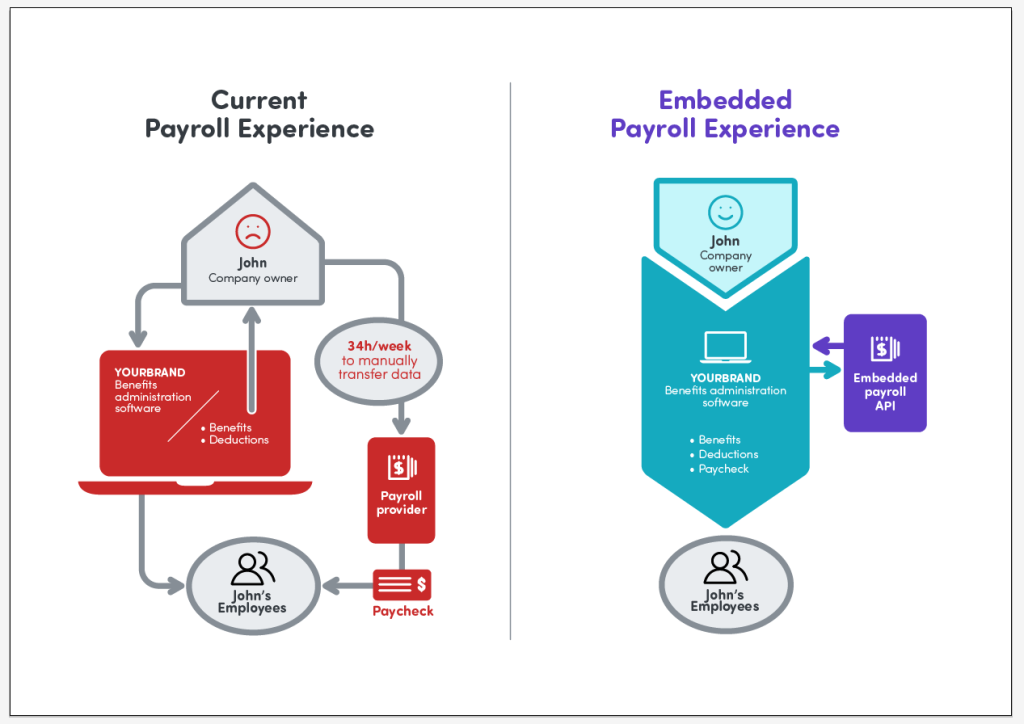 Who can use Worklio's embedded payroll?
Its ideal use case is for vertical SaaS companies to expand their product offering with payroll and unlock a new source of revenue. Some of these verticals include accountech, insurtech, marketplaces, ERPs and workforce software, banking, and fintech platforms.
However, it also works for HR outsourcing organizations like ASOs, Payroll firms, and PEOs who want to keep their own brand identity to separate them from the rest of the crowd.
Businesses that operate vertical SaaS platforms in sectors such as manufacturing, hospitality, retail, among others, are experts at understanding their customers' one-of-a-kind industry challenges and opportunities, and hence can benefit from a payroll solution that is customizable to support the demands of their customer base. Moreover, adding a payroll offering to an existing vertical SaaS product adds a new source of revenue and up to 50% lift to ARPU, and makes it that much more indispensable to customers.
Approximately 70% of small businesses report that payroll taxes are either a moderate or significant burden. Perhaps more frustrating, 25% of all workers have experienced a paycheck error. By leveraging embedded payroll, partners can help their customers eliminate some of the complexity of running their day-to-day operations and save them hours per week manually transferring data between systems. In turn, the customer relationship is strengthened with increased engagement, and revenue growth is supercharged.
Summing It Up
Worklio is a leader in embedded payroll. With 256-bit AES encryption and ISO 9001, ISO 27001, and SOC 2 Type 2 security certifications, partners and their customers can rest assured that their data is safe. Worklio also provides dedicated live expert support to help partners integrate embedded payroll into their platforms seamlessly.
Today, Worklio powers 10,000+ businesses, and 250,000+ workers, and has processed $10 billion+ in payroll to date. Offering best-in-class embedded payroll is how we're fulfilling our vision of making businesses more productive. Contact us via phone at (844) 996-7554 or email at demo@worklio.com to learn more.
For more information about Worklio and our embedded payroll solution, be sure to subscribe to our blog and follow us on social media for updates. We're active on Twitter, Facebook, LinkedIn, and Instagram.